,
Pompom or lion's mane (Hericium erinaceus)
Pompom blanc
or monkey's head
The pompom blanc is also called monkey's head or lion's mane. it is also a native to Germany, although it is quite hard to find. you can sometimes see it as a parasite in wounds of trees, and it can also grow in the crowns of trees. The fruiting bodies normally appear in September or October.
The fruiting body can reach the size of up to 40 cm in diameter. It does not have a stalk. The young fruiting body is white to slightly yellow, and small tufts or spikes can appear on the surface. The inside of the fruiting body is a bit like a tuber.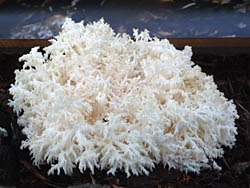 Hericium coralloides
You can grow the pompom mushroom in the garden on logs. Suitable log types are e.g. copper beech, oak, walnut or apple trees.
In contrast to mushrooms which have been grown in Germany for quite some time such as the oyster mushroom and shiitake, there doesn't appear to be much information available about growing pompom in the garden.
The so-called "coral tooth fungus" (Hericium coralloides) started to appear as fresh mushrooms in the marketplace recently. In contrast to pompom it tends to grow in loose bunches or clusters. It is sometimes called frisée mushroom. In mushroom farms, coral tooth fungus is grown on substrates in the same way as pompom. We do not have any information about growing it in the garden.
Profile of the pompom mushroom
Taste and preparation:
You can cook the pompom after cutting it into slices. The easiest way is to fry the slices but you can also coat the slices with seasoned breadcrumbs before frying which makes a tasty meal.
Production and marketing:
For some years now, mushroom farms have been successful to grow the pompom on substrate blocks, so it is fairly easy to find in vegetable shops or from the growers directly on markets.
Growing in the garden:
The mycelium only grows very slowly. In contrast to rapidly growing types such as the oyster mushroom, it takes a very long time unfortunately until the first harvest appears. The fruiting bodies normally appear in Autumn.
Our products:
Plugs and grain spawn for pompom mushrooms