Elm oyster mushroom (Hypsizygus ulmarius)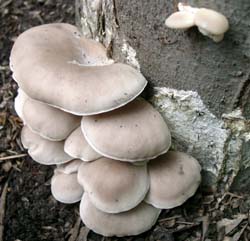 Elm oyster mushrooms on beech

The elm oyster mushroom (Hypsizygus ulmarius) grows on wood just like e.g. the oyster mushroom.

The spawn that we sell is from an American variety. It grows in bunches or clusters, similar to oyster mushrooms. The mushrooms are white to light grey or light brown and very tasty. The mycelia grows quickly into the inoculated wood. In the case of softwoods (e.g. poplar) the fruiting bodies can even appear after about 7 months. It can take up to about 12 months on beech logs.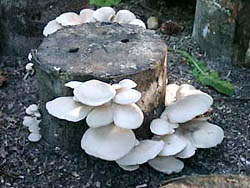 Elm oyster mushrooms on beech
It is best to grow the elm oyster mushroom on poplar, copper beech, maple, oak or willow. As you can see with the name, you could also of course grow it on elm, but this wood type is sadly hard to find these days due to Dutch elm disease.

The logs you want to inoculate should have a minimum diameter of 20 cm and a length of approx. 40 cm. After the mycelium has grown through the logs, they should be partly buried in the earth. See our growing instructions for further information.
Profile of the elm oyster mushroom
Taste and preparation:
This mushroom is similar in shape and taste to the oyster mushroom. i.e. you can expect a large harvest which you need to season well when cooking. Suitable for a wide range of mushroom dishes, both with Asian and European preparation methods and spices.
Production and marketing:
Probably being sold from time to time as a light coloured variety of the oyster mushroom.
Growing in the garden:
Easy to grow, large harvest on logs or straw pellets.

Our products:
Plugs and grain spawn for elm oyster mushrooms is currently not available.