Shii-Take (Lentinula edodes)
Growing shiitake on oak logs in the garden
The shii-take or shiitake grows on wood and is not native to Germany. The best wood types to grow shiitake are oak and hornbush. Beech, alder and birch are also suitable but the yield with birch is not very high because it is a soft wood. The shiitake is easy to grow in the Central European climate outdoors. The logs remain in the garden for the whole year.
It is quite easy to grow shiitake and it is reliable. However, you need to be patient because the first mushrooms usually only appear after 12 months or more. After the first harvest, you can normally harvest from the logs again several times a year for quite a few years.
You can harvest from April to December depending on the weather. To encourage the growth of mushrooms, you can repeatedly immerse logs which are well matured with mycelia in a rain butt full of cold water. This normally causes the mushrooms to grow a short time later.
The shiitake has not only been highly regarded in China and Japan since about 2000 years as a delicious edible mushroom, but also for a range of health promoting effects. It can be fried, steamed or stewed as a complete vegetarian meal or as a spicy supplement to various dishes. The spicy taste is even stronger if you dry the mushrooms before use.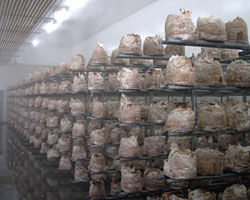 Growing shiitake in a mushroom farm
Shiitake mushrooms are a good source of protein, potassium and zinc, which is an important element for activating the immune system. They contain high amounts of the vitamins B1 and B2, and also vitamin D, which is particularly important for vegetarians. Research above all in Japan has confirmed that shiiitake mushrooms can reduce the cholesterol level and strengthen the immune system. See Wikipedia (free encyclopaedia) for further information which is being continuously expanded.
Instead of growing on logs, another way to grow shiitake is to make substrate blocks out of wood chips from deciduous trees. This method is done at a large-scale in mushroom farms.
If you want to grow shiitake indoors, you can use our so-called combi-sets. This is similar to the way that shiitake is grown in mushroom farms. The combi-sets consist of grain spawn, special sterilised wood chips and two specially perforated plastic bags. After receiving the kit, mix the grain spawn and wood chips with water, put the mixture in the bags and let the culture mature to a solid substrate block indoors. You should receive the first of several harvests after after approx. 10 weeks. Click here for instructions.
Profile of the shiitake mushroom
Taste and preparation:
The shiitake or shii-take is firm to the bite and has a strong aroma. As with all mushrooms it should be thoroughly cooked. To make sure it is cooked right through, you should first cut it into slices.
It is sometimes used in Asian restaurants as a dried mushroom in sauces.
Production and marketing:
In the meantime, mushroom farms in Central Europe already supply large supermarket chains, especially during the "mushroom season", i.e. from Autumn into early Spring. You sometimes find the mushroom "fresh" after air freighting it from Asia... However regional producers also offer the mushroom throughout the year on markets and in vegetable and organic shops.
In Asian food supermarkets, dried shiitake is also called "Donko mushroom".
Growing in the garden:
Easy to grow in the garden. However, you need to be patient for at least 12 months to get the first harvest. To get enough mushrooms to supply the family you should inoculate at least 4 logs. If you submerge the mature logs in a rainwater butt, you can normally expect to harvest in about 2 weeks. You can repeat this process around every 8 weeks from Spring to late Autumn. This allows you to plan the harvest.
Important: The logs should remain in the garden during the Winter.
Our products:
Plugs and grain spawn for shiitake mushrooms