Changeable agaric mushroom (Kuehneromyces mutabilis)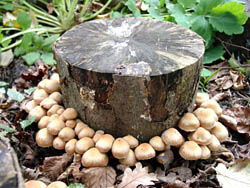 Changeable agaric mushrooms on beech
The changeable agaric mushroom is very easy to grow and should bring several harvests throughout the whole year. We were able to harvest in the Winter (January), in the Summer (June) and in September and October.
It typically grows close the ground in a complete ring around the whole of the log.
Here is a tip: Spread shredded wood or bark as a mulch around the log to avoid earth splashing up into the lamellae (or gills) when it rains.
The changeable agaric mushroom is not attacked so viciously by slugs as e.g. the oyster mushroom.
Do not harvest the caps of the changeable agaric mushroom when they are too old. With older examples, the edges of the caps fold upwards rather than downwards. If you harvest the mushrooms when they are young you can also eat the upper parts of the stalks.
Information for wild mushroom collectors: Unfortunately, the changeable agaric mushroom has a similar appearance to a poisonous mushroom which is found in the forest, the Galerina marginata. If you are experienced, you can tell these two mushrooms apart from characteristics of the stalks. In Germany, you can get further information on identifying wild mushrooms e.g. from the specialists of the Deutschen Gesellschaft für Mykologie (DGFM, German Society of Mycology) or from scientific mushroom pages in the internet.
Profile of the changeable agaric mushroom
Taste and preparation:
Very good aromatic taste, firm to the bite.
Can be prepared like forest mushrooms. Best of all is to cut the mushroom into strips and fry in butter.
Very tasty tip: cut into small pieces and spread it over a pizza before putting it in the oven!
Production and marketing:
Hardly available on the marketplace as a fresh mushroom.
Growing in the garden:
Grows reliably on logs of deciduous wood. You can get a good harvest even on birch, which is normally not ideal for growing mushrooms. Copper beech is specially suitable.
Several harvests a year, usually in attractive rings around the log, good quantity for harvesting. After a mild late winter in Hanover, Germany, the mushrooms were even growing in January, but can also come in Summer.

Unsere Produkte:
Spawn for changeable agaric mushrooms