King oyster mushroom (Pleurotus eryngii)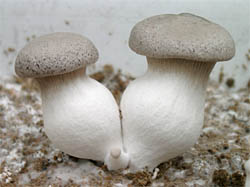 Young king oyster mushroom
The king oyster mushroom is a relative of the oyster mushroom but unfortunately it is much more difficult to grow.
In the wild, it is not found on small stumps or trees, but grows instead mostly south of the Alps as a parasite on shrubs, above all on members of the umbellifer family such as hemlock. So it grows fairly close to the ground on perennials or herbs.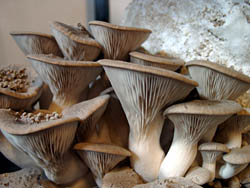 King oyster mushroom (Pleurotus eryngii)
It is unfortunately not possible to grow the king oyster mushroom on logs. Growing it on substrates it is also rather difficult and only recommended for experienced mushroom growers and under sterile conditions.
The king oyster mushroom is an excellent edible mushroom, does not get too soft when it is cooked and, if you cut into thin discs it retains its typical mushroom shaped even after heating. The shape reminds one of the Boletus mushroom.
Profile of the king oyster mushroom
Taste and preparation:
In contrast to shiitake, it is not very aromatic. It is firm to the bite and keeps in shape after heating up. The stalks and the caps are not well distinguished from one another. It has a very classical mushroom shape. so you shouldn't chop it up into little pieces, but instead cut the fruiting body (i.e. the cap and the edible part of the stalk) into slices which correspond to the original form of the whole mushroom.
Production and marketing:
Mushroom farms in central Europe regularly produce king oyster mushrooms. However the mushroom is unfortunately very demanding and its growing requirements are not always clear and easy to meet. So the quite high price of king oyster mushrooms in the marketplace is quite justified.
You sometimes find king oyster mushrooms in the shops which are more or less "fresh" after air freighting from Asia....
Regional producers also offer that mushroom throughout the year on markets and in vegetable and organic shops.
Growing in the garden:
Unfortunately not possible.

Our products:
We supply king oyster mushroom spawn to mushroom enthusiasts who are able to produce sterile substrates. However, we do not supply growing instructions for this mushroom type.
Spawn for king oyster mushrooms