Black poplar mushroom of pioppiono (Agrocybe aegerita oder Agrocybe cylindracea)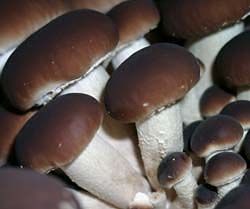 Young black poplar mushroom (pioppino)
The name pioppiono originated in italy and has been said to mean "fungus on a stick". It is an excellent edible mushroom and can be grown on logs in the garden. It grows particularly well on poplar wood.
It grows wild in Germany, e.g. in wine-growing regions. The variety we sell also grows well in northern Germany.
The mycelium is very fine. So you need a bit of patience before it grows into the logs.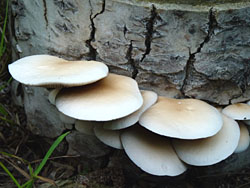 Pioppino mushrooms which are ready to harvest
Thick poplar logs in our garden took nearly 2 years until the first fruiting bodies appeared. After the logs are well matured with mycelium, pioppino mushrooms can then appear several times a year until the Autumn.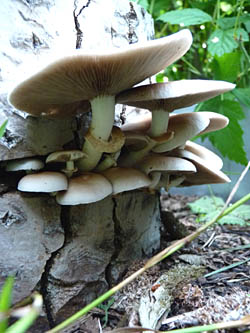 Pioppino on poplar wood
Profile of the pioppino mushroom
Taste and preparation:
Very good nutty taste, firm to the bite. Can be prepared like wild mushrooms.
Production and marketing:
The main region for commercial production is North Italy. The mushroom is grown there on substrate blocks and also in a few mushroom farms in Germany.
Accordingly, you can sometimes find fresh mushrooms on the marketplace.
Growing in the garden:
Grows slowly but reliably on logs of soft woods.
Several harvests a year, normally from Summer to Autumn. Good harvest quantity per harvest.
Our products:
Plugs and grain spawn for pioppino mushrooms