Velvet foot or winter mushroom (Flammulina velutipes aggr.)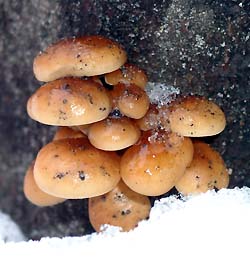 Velvet foot mushrooms in snow
There is a good reason that the velvet foot is also called "winter mushroom" because it prefers to come in Winter. It normally grows in small bunches or clusters.
On the one hand, it is not always easy to find and harvest this mushroom if it is covered by snow. On the other hand, this mushroom makes an excellent addition to your menu, especially in times when the oyster mushroom and the shiitake are hibernating.
The velvet foot can also be harvested in Winter when it is frozen, you can simply add it to soups in this case.
As with all mushrooms, it is best not to harvest the velvet foot when it is too old. Young mushrooms are a brilliant gold brown in colour. Older examples tend towards a darker colour towards dark brown and the caps are bent upwards at the edges rather than down. Unfortunately the stalks are very tough to eat.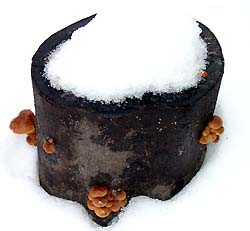 Velvet foot mushrooms in snow
You may find that the caps are somewhat wet or slimy on the outside. This is a secretion of starch and can be rubbed off with a paper towel.
Profile of the velvet foot or winter mushroom
Taste and preparation:
The mushroom has a typical tasty, forest mushroom aroma. If you pick it in the wild, you may need to spend some time cleaning it.
Production and marketing:
Hardly found on the marketplace as a fresh mushroom.
Growing in the garden:
It is worthwhile growing these mushrooms as a speciality in Autumn and Winter. Easy to grow. The fruiting bodies can even appear in Winter under snow cover, so you may not notice that the mushrooms have come.

Our products:
Plugs and grain spawn for velvet foot mushrooms